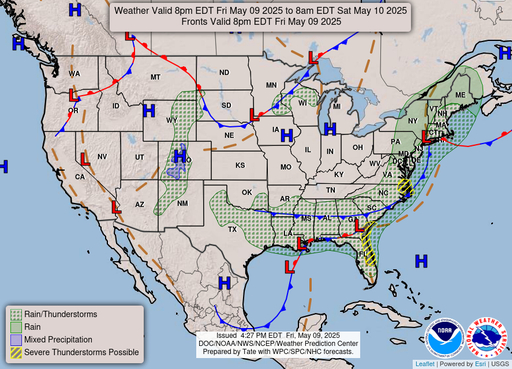 Forecast Discussion:
A cold front pushes southeast this morning, spreading showers and a few isolated thunderstorms into the area. Gusty westerly winds along with very warm temperatures follow for today. High pressure will follow on Saturday night to provide drier conditions for Sunday. There will be several chances for rain this week, with temperatures well above normal.
In the forecast:
Showers in the morning, then gradual clearing today with a high of 77 and breezy with gusts up to 25 mph. Mostly clear tonight with a low of 50. Sunny on Sunday with a high of 73 and a 20% chance of showers Sunday night with a low of 51. Partly sunny on Monday with a 40% chance of showers and a high of 68.
MARTINSVILLE WEATHER